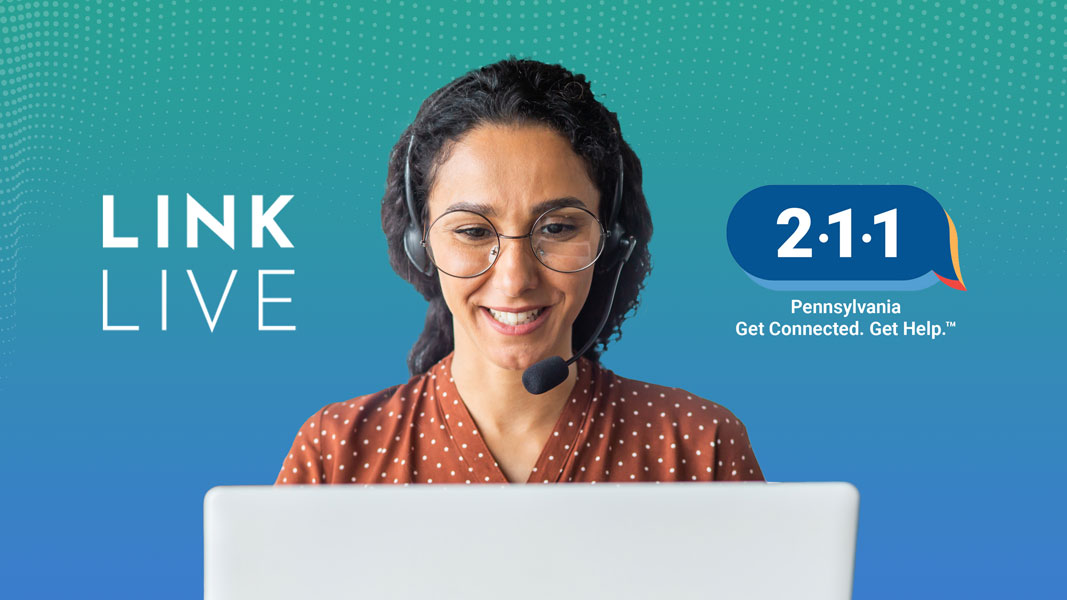 SAN FRANCISCO–(BUSINESS WIRE)–LinkLive, a leading cloud-based Contact Center as a Service (CCaaS) provider, has partnered with United Way of Pennsylvania to deliver a complete, state-of-the-art customer engagement solution to address community needs across the state using the Pennsylvania 211 network (PA 211). The PA 211 network is a free, confidential, 24/7/365 service that connects Pennsylvanians with health and human services and is available by phone, text, live chat or self-service on its public website.
"PA 211 is committed to continuing to grow our capacity to help community members in search of support," said Kristen Rotz, President and PA 211 Executive Director at United Way of Pennsylvania. "Our new contact center solution allows our call center agents to quickly and confidently assist residents through any communication channel, in any language. LinkLive will make our agents more efficient and improve the customer experience."
The secure, multichannel nature of LinkLive allows PA 211 options to provide support for residents via text, phone and video. This new solution will also allow any resident and agent to connect via live chat with real-time translation — enabling the customer and agent to converse in their native languages.
"We are really excited about our partnership with PA 211. Beyond the translation feature, we are exploring ways to help PA 211 manage its valuable customer service teams with solutions like our AI-enabled Workforce Management (WFM) solution," said Patrick Reetz, LinkLive Chief Product Officer. "The LinkLive WFM solution is powered by advanced AI, which allows administrators to easily and seamlessly manage schedules, reporting and adherence, and aligns well with the priorities for PA 211."
Future enhancements for PA 211 will include LinkLive AI, which recognizes keywords and guides an agent to minimize the time spent reviewing the eligibility of programs for residents. LinkLive also taps second-party data regarding location, need and eligibility to expedite referrals for community resources. This will reduce Agent handle time and allow for a best-in-class customer experience.
"Data tells us that the BIPOC community, immigrants and refugees are among those more likely to face economic hardship in our state," said Rotz. "The complete engagement platform, developed by our partner LinkLive, is crucial to enabling better equity and accessibility of PA 211 services. LinkLive has helped us deliver on our promise to citizens of Pennsylvania by allowing us to connect through any channel and deliver with the human touch."
LinkLive, founded in 2003, makes and secures intelligent customer connections to help people live healthier lives. The company develops electronic messaging application services, using its unique SAFEc architecture to create the first all-in-one cloud-based engagement platform that provides secure, encrypted communications for all mediums: voice, messaging, video conferencing, fast mail, file share, appointment scheduling, and a digital office in one pane of glass. Additionally, the company is the first to offer 'presence' capabilities, which alert customers in real-time to service personnel's availability. This is important to contact centers' marketing, sales, and support center functions. LinkLive products are compliant with GLBA, SEC, SOC2, HITRUST, Sarbanes-Oxley, and HIPAA requirements for logging, privacy, and security.
United Way of Pennsylvania is a 501(c)(3) organization with a mission to champion United Way as a leader and partner in building more financially resilient families and thriving communities throughout Pennsylvania. United Way of Pennsylvania envisions an inclusive, impactful and collaborative network of United Ways working with business, community, faith and government leaders to advance equitable access to health, education and financial stability for all Pennsylvanians.
PA 211 is a subsidiary of United Way of Pennsylvania, and is a nonprofit organization responsible for assuring that all Pennsylvanians can access help through 211, a vital service leveraged by millions of people across North America. Every day, clients contact 211 to access free and confidential crisis and emergency counseling, disaster assistance, food, health care and insurance assistance, stable housing and utilities payment assistance, employment services, veteran services and childcare and family services. To reach PA 211, dial 211 from your phone or text your zip code to 898-211. A guided search for community resources, and web chat, including the chat translation tool, is also available at www.pa211.org.
Subscribe for updates
Contact Sales