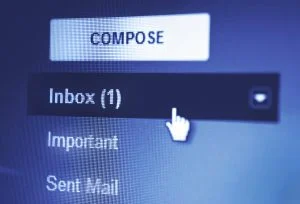 Since when did your twitter account become more secure than your personal health information?  Well, according to a recent survey conducted by email security company Agari, receiving an  email from a healthcare company is four times more likely to be fraudulent than an email from a social media company.1 This confirmed what many people already knew: healthcare is severely behind other industries when it comes to online privacy and security practices. The survey ranked businesses from multiple industries based off of their email security protocols and found that healthcare companies ranked extremely low for keeping their online communications secure. In fact, the average TrustScore for healthcare security was 17% (compared to social media's 67% average), and even worse, about a third of healthcare companies had a TrustScore of 0.
One of the healthcare companies that received a zero score was Anthem Health. This may not come as a huge surprise, since they recently experienced one of the biggest cyber attacks a healthcare company has seen to date. On January 29, 2015, Anthem discovered that hackers stole the personal information of nearly 80 million of their customers. They stole birth dates, Social Security numbers and the health identification numbers.
But there's still hope for healthcare companies. One health insurance company, Aetna, was the only health company to earn a score of 100%. So what makes Aetna so much more secure than Anthem? Well, each percentage in the TrustScore is a weighted score for an industry or company's email authentication process. The score consists of three standard security protocols: Sender Policy Framework (SPF), DomainKeys Identified Mail (DKIM), and Domain-based Message Authentication, Reporting and Conformance (DMARC)3. According to Agari, DMARC is the most important category, as it protects against phishing emails by sharing information between businesses. Aetna Health Insurance earned its high score by utilizing DMARC. Jim Routh, Aetna's chief information officer says, "What Aetna is doing is protecting all members and consumers from receiving fraudulent email some of which is phishing attempts. In our case, 60 million fraudulent emails are not going to be delivered to consumers or members this year because of DMARC3."
Here at LinkLive, we understand the importance of keeping your emails safe. LinkLive Healthcare's secure and encrypted email enables your organization to safeguard messages between new and existing patients. Today's web savvy users want to email their healthcare professional with questions, concerns and to schedule appointments. LinkLive Healthcare's encrypted email enables your employees to use existing email systems (such as Microsoft Outlook) for secure encrypted communications while maintaining HIPAA-compliance, lowering learning curves and decreasing adoption times. LinkLive Healthcare enables secure, encrypted email with any email address and with people inside and outside of your healthcare organization.
Read More: Validating Virtual Care →
Sources:
1) http://www.fiercehealthit.com/story/healthcare-industry-behind-country-mile-email-security/2015-02-20?utm_medium=nl&utm_source=internal
2) http://www.usatoday.com/story/tech/2015/02/04/health-care-anthem-hacked/22900925/
3) http://fortune.com/2015/02/19/aetna-dmarc-email-security/
Subscribe for updates
Contact Sales