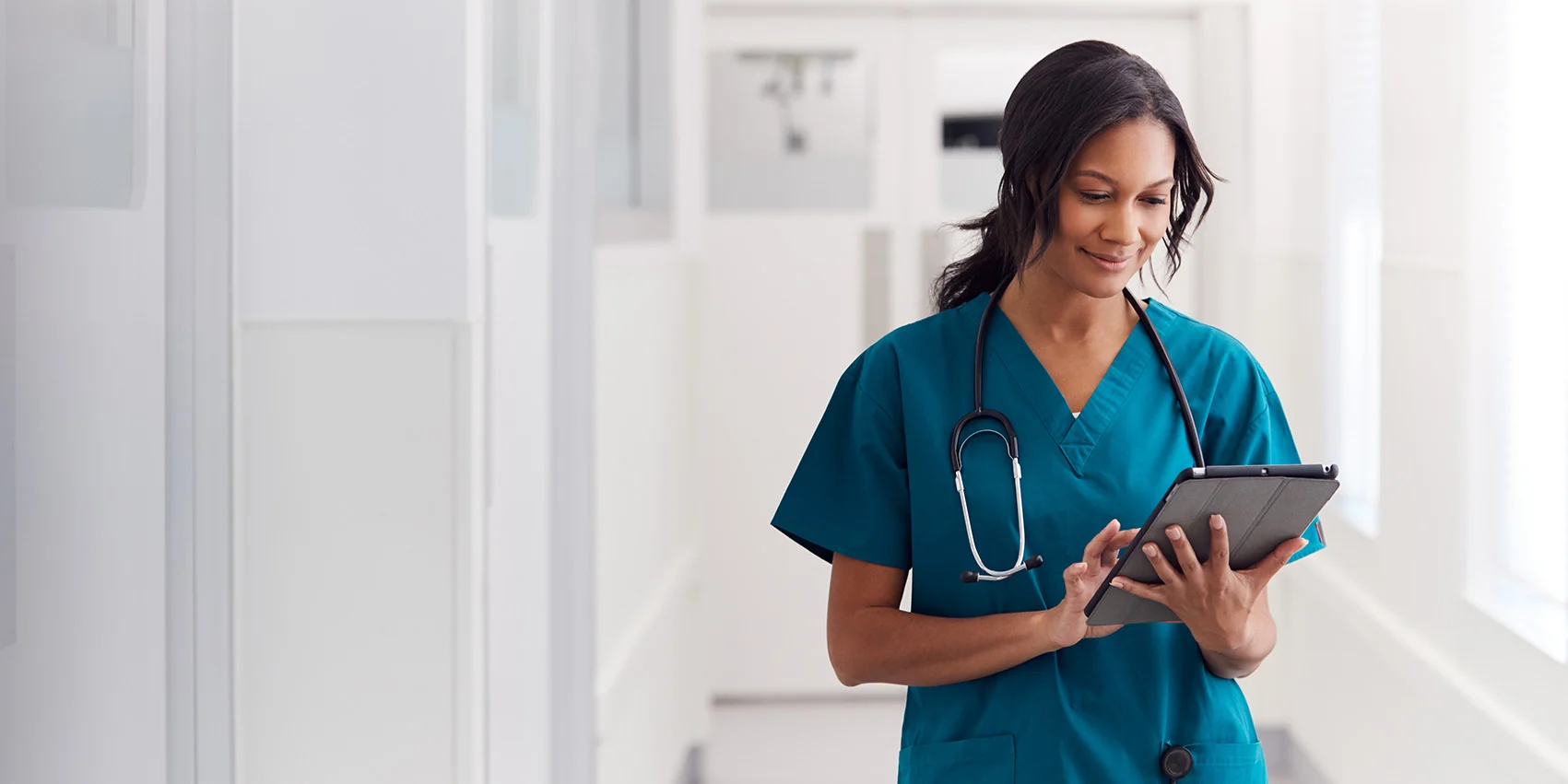 This blog is Part 5 of five in a series taking a deeper dive into today's nursing shortage crisis.
It's no secret that the nursing shortage has a detrimental impact on patient care. It can lead to an increase in errors, higher mortality rates and failure-to-rescue situations. At the root of these negative outcomes is communication. Each time communications open and close, they present an opportunity for errors and job dissatisfaction.
Today, best-in-class healthcare organizations use communication technology as an "unlock" to alleviate the effect of staff shortages, reimagine a better patient journey and improve job satisfaction for all care team members. Here are four key strategies to make it work for you.
Streamline communications
Front line staff face communication challenges every day, but nurses are the common denominator in most patient-facing roles. In fact, patient satisfaction and compliance often depend on the quality of interactions patients have with nursing staff. But when nurses spend excessive time capturing and transposing physical forms of data to multiple tech devices, they're not at the bedside. This means that nurses can also be the bottleneck to patient throughput.
A good patient experience is no longer just a hospital goal. It's a requirement for continued growth. Patients have a choice of where they receive treatment, from walk-in urgent care and ED facilities to physician's offices and hospitals. More importantly, they're making conscious decisions to choose facilities that let them connect through "consumable" self-serve tools. Making it easier for patients to access certain aspects of care online affords providers higher patient retention and satisfaction scores, too.
That's because self-service technology permits patients to interact with a healthcare system in a meaningful and relevant way. Take conversational artificial intelligence, or AI, for example. It can help answer FAQs upfront and redirect internal inquiries, reducing the burden on customer service reps and nurses alike. Moreover, self-service technology improves the provider side of the healthcare relationship by allowing clinical staff to manage the exceptions rather than the norms.
Boost coordination
Much of today's technology involves visual media. Tools such as video conferencing, telemetry and face time encourage deeper collaboration and improved provider experiences. Yet nurses spend needless time waiting for data such as lab results or transfer authorizations to facilitate the appropriate level of care. This less productive time, or latent care, directly contributes to higher staff anxiety levels.
Likewise, when messages come in multiple forms and from multiple directions, clinicians may overlook important communications. That's because they're focused on patient care at the same time. This can quickly escalate into problems downstream, especially for critical processes such as discharge planning and patient transfers. The costly truth is that any time communications are missed, patient safety is at risk.
Healthcare systems see an immediate increase in productivity and staff engagement by consolidating and streamlining communications. A strong digital communications strategy eliminates the need to sift through different systems and data sources, giving teams more time to collaborate with each other and help patients. The key is interoperability. Interoperability improves the way healthcare information is accessed, shared and used in order to deliver the best possible care to patients.
Further, leveraging choice, convenience and flexibility is advantageous in both implementation and adoption. When providers communicate on their terms using technologies and devices they already know, it translates to increased responsiveness and accountability. And by reducing the cognitive burden of managing multiple devices, nurses can focus on what's really important – their patients.
Build community trust
Healthcare is considered one of the most important venues for new multimedia applications, and for good reason. Multimedia, aka omnichannel capability, makes it possible to increase a hospital's radius of influence through improved care coordination. Consider the role multimedia can play in patient transfers. Health systems can use electronic image-sharing of x-rays, labs, wounds, etc., to show what the patient being transferred needs, not merely describe it.
Conversely, multimedia can help clinicians make informed recommendations for local treatment and prevent unnecessary transfers. This pushes revenue to rural and smaller facilities by keeping patients in their network when medically appropriate. In return, patients gain confidence in their local hospital because they know inter-facility communication with a larger hospital provides an optimal care plan.
Omnichannel capabilities also increase opportunities for personalization. For example, interoperability between EMR and communication systems empower facilities to extend their one-to-one connection across all patient-facing representatives. A high level of personal recognition is an example of best-in-class use of communications technology. And it pays off. Something as simple as calling patients by name can generate higher Net Promoter Scores, improved trust and satisfaction scores, and greater revenue capture.
Remove barriers to care
For all the problems COVID-19 created, it gave healthcare a blank slate to design a "digital first" patient journey. But it requires clearing a path forward, one that sweeps out the old to make way for the new. That means clearing out inefficient workflows and eliminating bad habits established during the pandemic. It also means proactively purging as many single-point solutions as possible to help reduce administrative burdens that lead to staff dissatisfaction.
In patient transfers, for example, there are multiple communications among multiple parties using multiple devices on multiple channels. This makes for a complex, time consuming and cumbersome process that can result in poor patient outcomes. Removing barriers from the transfer environment, however, allows facilities to capture more transfers and increase revenue – on average, $10k per patient.
In addition, implementing an overarching and holistic approach to communication reduces referral leakage and modernizes the transfer experience. Patients get the right level of care faster and employees work with fewer platforms, making them more efficient at their job. Technology should remove stress from caregiver roles, not add to it.
Finally, removing barriers to care drives brand loyalty. By providing real-time access to resources, patients benefit from a consistent, seamless experience across all channels, and that helps keep them in your network. It also contributes to greater employee satisfaction, thereby reducing turnover and hiring expenses.
Here are three key takeaways about how digital communications can bridge staff shortages:
A well-designed digital front door with self-service capabilities increases patient satisfaction and revenue, removes administrative burden, and lowers costs associated with rehiring.
Replace a constellation of outdated single-point solutions with fewer, more robust tools so they become second nature to the core mandate of delivering care.
A good digital communications strategy makes doing more for the patient feel like less work.
Read More about the nursing shortage and its impact on patient transfer in our eBook, Transforming the Transfer and Referral Process and Why Efficient Communications Benefit Both Patients and Providers.
Subscribe for updates
Contact Sales