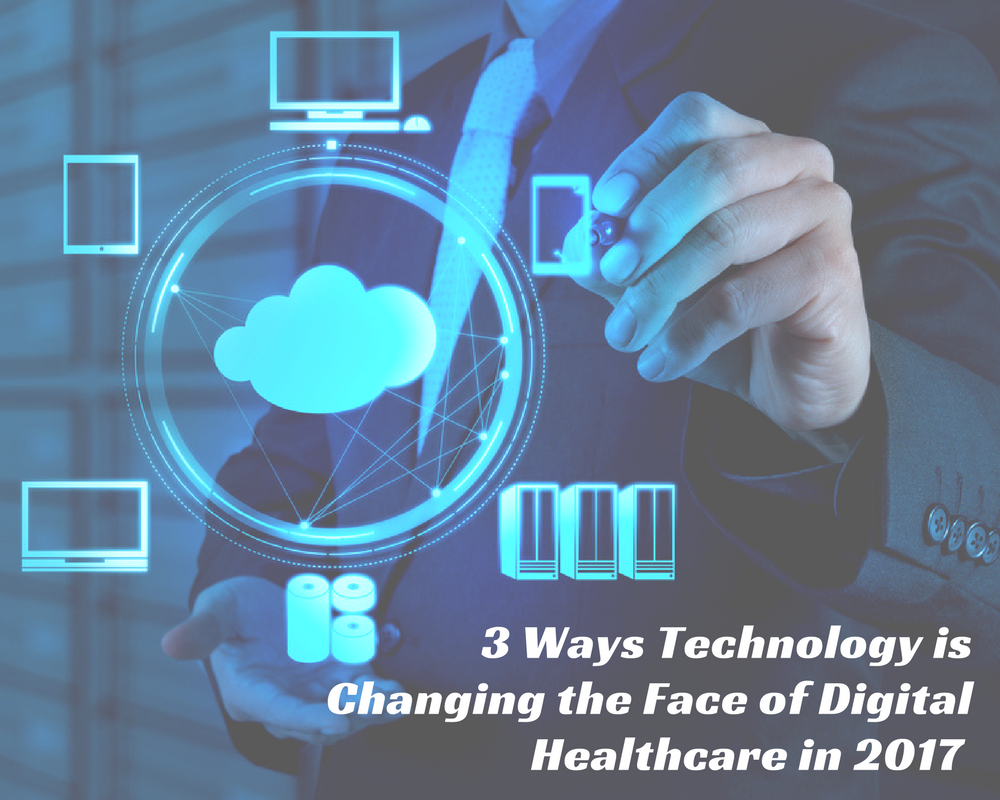 Take a look at the healthcare landscape today, and compare it to 10 years ago. It's unrecognizable. From biosensors that can track your heart rate, breathing, temperature and other vital information, to cloud-based apps that allow healthcare providers to create referrals online, digital healthcare is increasing patient engagement and empowering people to take stock of their physical health like never before. Read on to learn about some of the most innovative technologies that are improving healthcare today.
Wearable Devices
Wearable devices, whether in the form of wristbands, watches, shoes, headbands or even patches, are playing an important role in today's digital healthcare transformation. In fact, Soreon Research predicts that the wearable medical device market will be worth $41 billion by 2020. These devices contain sensors that gather raw data, which is then fed to a database or software application for analysis.
While most are already familiar with wearable devices that can help you track your steps, sleep quality, heart rate and fitness level, wearable technology is capable of so much more. Companies like Apple, Google and Samsung are developing wearables that will help diabetics monitor their blood sugar levels. Nokia recently launched a set of weighing scales that use pulse wave velocity (PWV) measurements to track weight, body composition (fat, muscle, water and bone mass), standing heart rate and PWV, a key indicator of cardiac health and associated with hypertension and risks of cardiovascular incidents. Wearable tech allows consumers to be in control and proactive about monitoring their own health. Collette Johnson, director of medical at electronics consultancy Plextek, believes the use of self-monitoring devices could help the National Health Service (NHS) save at least 60 percent on the average cost per patient.
Virtual Reality
The world of virtual reality (VR) isn't just for gamers. VR is also creeping its way into digital healthcare and emerging as a game changer for squeezing costs and improving care. Robotic surgery takes on a whole new level with virtual technology. A robotic device performs the operation, but is controlled by a human surgeon in another location, which saves time and reduces the risk of complications.
VR technology is also important from an education standpoint. Virtual trauma rooms allow students to not just imagine, but actually experience what it looks and sounds like to be in an emergency room. 360-degree video enables the participant to zero in on a particular element of the room, such as a medical monitor or the patient, for closer study. And since VR technology also extends to audio, viewers can also hear the monitors and communicate with team members in real-time. It's a foolproof way to give students the opportunity to experience the realities of the emergency room without getting in the way of the professionals or putting lives at risk.
Cloud Computing
Healthcare's move to cloud-computing is fast-tracking the industry toward greater innovation and allowing physicians to deliver better quality care. Cloud-computing enables healthcare professionals to store and access data remotely, making patient data immediately accessible from anywhere around the world. On top of this, cloud-computing allows professionals to save time, communicate using remote conferencing and get up-to-the-second updates on healthcare developments and patient conditions. Each of these capabilities could mean the difference for saving a patient's life.
Cloud computing is also an essential component for scientific research. Targeting breast and ovarian cancer, physicians are studying more than 2,000 DNA sequences at the Icahn School of Medicine at Mount Sinai in New York. The data set is huge — more than 100 terabytes, and the analysis takes place on a secure cloud-based platform. Cloud-computing enables the researchers to store source files securely and cost-effectively. It would be an impossible task to accomplish without cloud technology.
Now that wearables, VR, cloud-computing and other cutting-edge technologies are disrupting the digital healthcare industry, we can expect even greater things to come in the next few years. We're excited to see what's next!
Subscribe for updates
Contact Sales