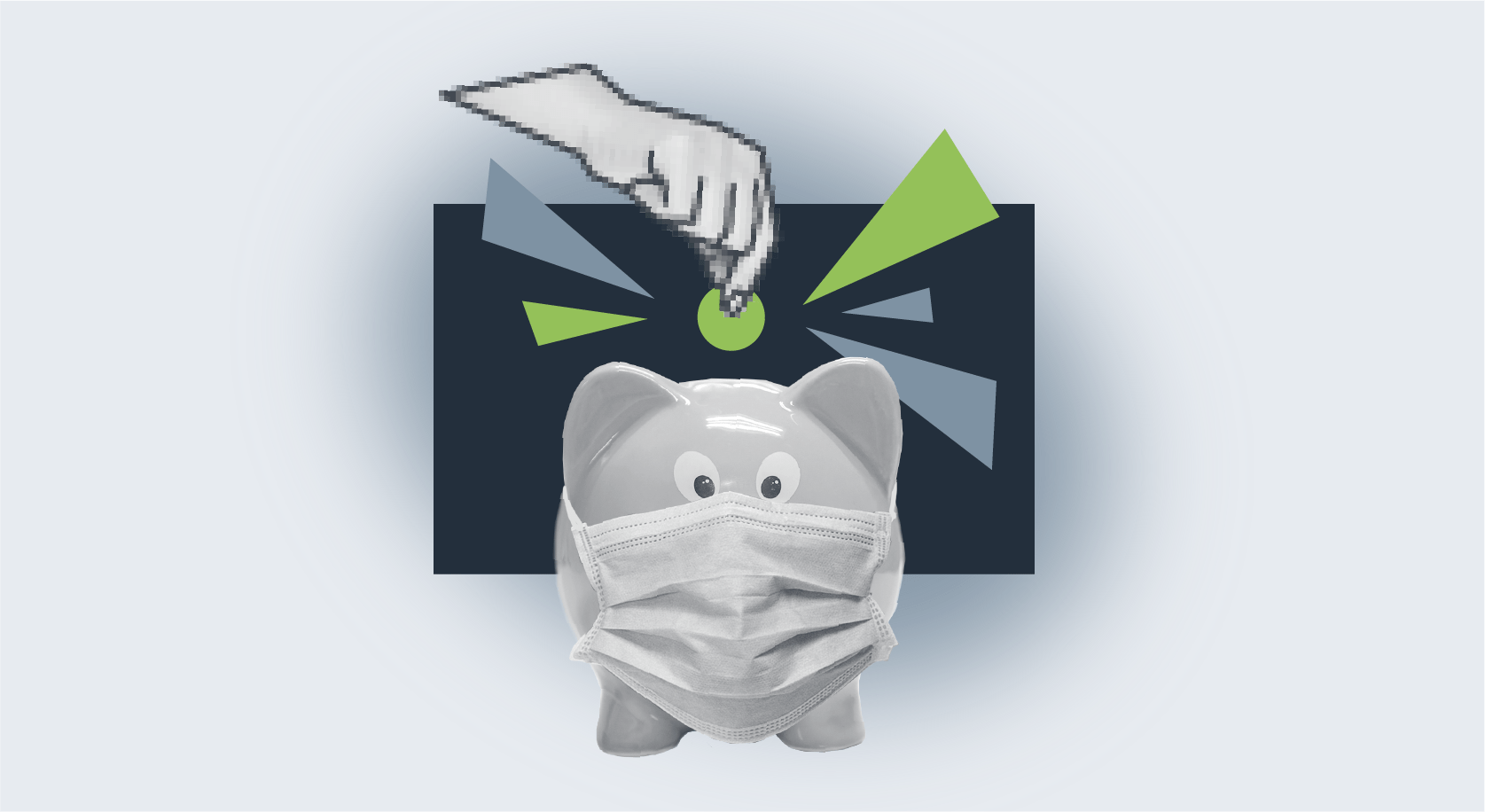 As the world emerges from the worst public health crisis in modern history, a return to life as it was pre-pandemic seems unlikely. Many fundamental changes in the ways that we live, and work are irreversible. For the financial services industry, COVID-19 rapidly accelerated the adoption of digital technologies. Exposed to the efficiencies of these new technologies, both bank employees and customers have developed new needs, preferences, and expectations.
As we transition to the "new normal," financial institutions must find new ways of empowering their employees and satisfying customer expectations for superior digital experiences. To overcome these challenges, many banks are turning to cloud-based unified communications technologies for a secure, flexible, and scalable means to digitalize employee and customer experiences.
Bank Employee 2.0
"As part of a global survey by BCG concerning remote working models, respondents stated that they've seen incredibly positive trends: Companies surveyed saw a 15%-40% increase in employee productivity, a 40% reduction in absenteeism, and the potential for 20% or higher cost reduction in real estate and resource usage."
-The Financial Brand
Despite the widespread fears associated with transitioning entire financial institutions to work from home models overnight, the experience has been a success. In fact, according to PWC, "Remote work has been an overwhelming success…83% of employers now say the shift to remote work has been successful."
Bank employees working remotely have been more productive and are absent far less. Increased productivity is attributable to factors such as greater job satisfaction, fewer distractions, and eliminating long commutes to work. As the industry begins to look ahead to the "new normal," it is hard to imagine that remote work will not continue to play an important role going forward.
Research suggests that employees will not be amenable to returning to the office on a full-time basis and that flexible work arrangements have become table stakes. For instance, "60% of employees surveyed during a recent Capco engagement said that if their company didn't offer flexible work arrangements, they'd look for another position." While "Research by International Workplace Group found that 80% of employees wouldn't take a job that didn't offer flexibility and that 30% of employees actually left over flexibility issues."
Remote work arrangements offer countless benefits at the organizational level. Financial institutions significantly reduce their operational costs by slashing real estate expenses and resource allocations. Banks are able to parlay the savings into hiring more workers. This allows banks to provide customers with greater access to human assistance at each digital touchpoint. With branches playing a diminishing role in the customer experience, human-centered remote channels are critical to providing a superior digital banking experience.
In the wake of COVID-19, branch closures led to significant increases in both call volumes and wait times. According to a McKinsey report, solving this problem involves striking a balance between improving "digital service journeys," and employing humans for complex issues. "Remote access, including advisors working from branches, call centers, and home offices, will become a key component of supporting customer needs not easily migrated to digital."
For this model to succeed, banks must give their employees access to the tools that they need to perform their jobs at any time or place. Moreover, with COVID-19 safety protocols likely to continue for some time – limiting branch capacity and resulting in prolonged absences – employees must be able to transition seamlessly between traditional and remote working arrangements.
Cloud-hosted unified communication (UC) solutions promote workforce elasticity through enhanced employee collaboration and help banks to measure up to rapidly evolving customer expectations.
This excerpt is a part of our banking trends brief, Digitalizing Employee & Customer Experiences in Banking: Overcoming Unprecedented Challenges to Thrive in 2021.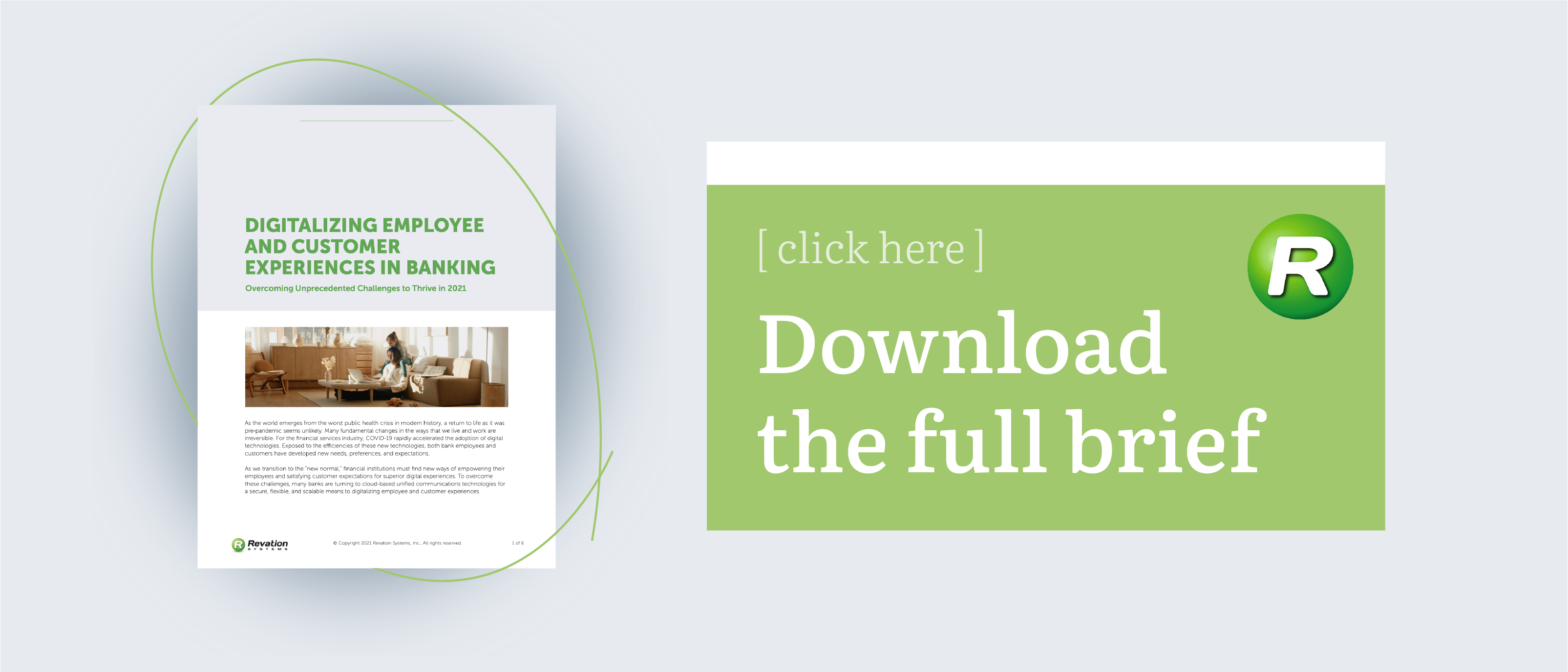 You can download the full brief here, or view other webinars, e-Books, white papers and more in our resource center, including:
Subscribe for updates
Contact Sales