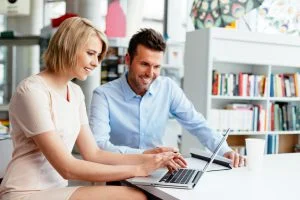 How many errands have you run today – too many to count? Would it have been easier and more productive to accomplish a few before you even left your home or office this morning?
With the consumer culture so busy these days, it's easy for customers to begin dreading even a quick trip to the bank. And between the commute, possible traffic and time spent in line, that "quick trip" can often turn into a time-consuming errand for many consumers; which can feel especially frustrating if they only needed to sign one document. This is why many banks are thinking about new ways to expand the branch experience into the virtual realm, without losing the in-person customer experience and level of support branch visitors would expect.
Despite the increasing security concerns of all companies, especially financial institutions, banks can't deny the fact that consumers want more service options that enable their experiences to be convenient as well as secure. Some banks have begun to respond accordingly by going beyond mobile applications and online banking, into customers' direct interactions with the branches themselves.
In this world of increasing busyness, virtual branches – where consumers can interact with tellers from the comfort of their own homes or offices – are becoming a necessary reality. Thinking about this ever-adapting and increasing mode of communication, here are a few examples of how virtual branches can improve the future of banking:
Virtual branches can accommodate small tasks that would otherwise require a physical visit.
From filling out loan paperwork to signing documents, there are many reasons consumers still feel the need to visit a branch to complete a quick task that could otherwise be done virtually; but as more commitments pull on people's time, having to physically visit the bank (often in traffic) can seem like a daunting prospect.
With virtual branches — where consumers can sign and send documents over a secure communications platform, which could include tools like email or chat — there is no need to visit banks, thus eliminating a timely and unwanted commute.
Virtual branches create an improved opportunity for customers to ask questions.
There are numerous situations where customers need questions answered, and don't want to visit a branch but feel that they need to for that in-person feedback or communication.
With virtual branches, however, agents can engage with customers using web and video chat, VoIP, email, text and more – offering a better way to answer consumers' questions in a timely manner and in a way that works the best for them. Also, with connected communications platforms, it's easy for customers to move from one platform to another, in case they prefer a particular method of communication.
Virtual branches add the same personal touch that consumers receive during a physical visit to the bank.
Because, in a virtual branch environment, consumers have the option of engaging with their bank through whichever method they prefer, agents are given a greater ability to add their own personal touch to every interaction.
For example, as agents are helping customers, they can assess whether the communication method they are currently using is the best way to engage with that specific person. If it's not, the agent can recommend an alternative route. In this way, it creates a tailored experience where specific customers can have their individual needs met.
While physically going to the bank may still seem necessary in many cases, new technology is continuing to change the way we think about engaging with our financial institutions. Virtual branches are adding increased convenience to consumers' lives, without causing them to miss out on the personalized experience of visiting a physical branch. This is why, as these offerings are deployed more widely, it will improve customer retention and engagement, as well as enhance the banking experience as a whole.
Subscribe for updates
Contact Sales