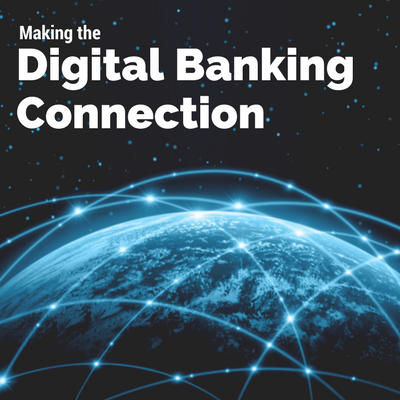 The digital transformation buzz has touched a wide range of industries, from retail to healthcare to media. But did you know that digital transformation is also sweeping the banking industry? Online banking from a desktop computer was once considered cutting-edge technology more than a decade ago, and now digital banking has taken its place. Today, most of our daily tasks can be completed through the click of a button on a mobile device, making the expectation for instantaneous results greater than ever.
Digital banking — the digitization of traditional banking where activities such as deposits, transfers, account management and bill payments can all be made from an application on a mobile phone or other mobile device — is revolutionizing today's banking industry.
Secure Networking Connections are Pivotal to Digital Banking Success
 According to the 2016 Bank of America Trends in Consumer Mobility Report, 62 percent of consumers use mobile or online platforms as their preferred method of banking. As digital banking continues to expand in both popularity and use, the implementation of secure networking connections for these applications becomes highly critical. In fact, a study conducted by Beyond Survey 2015 found that 71 percent of consumers want an additional level of security in digital banking applications.
Read More: Banking Security and the Customer Experience →
The growing need for enhanced security in digital banking means that network security has become just as important as traditional encrypted application software. Although encrypted application software that encrypts data both in-transit and at rest provides a solid layer of security, a session-oriented security approach can be even more effective.
The Session Security Approach
What exactly is a session security approach? A session-oriented security approach provides security for private consumer data in digital banking.
At its core, a session refers to a temporary network connection with two endpoints to communicate information back and forth. One of the key advantages of a session-oriented design for digital banking platforms is that it creates a more simplified, secure and dynamic network. Since session-oriented routers are software-based, they can be implemented anywhere and everywhere — even on top of existing networking infrastructures, allowing for secure networking. Session-oriented networking has the power to revolutionize the security of digital banking applications, providing a next-generation level of protection to unencrypted information.
 More Network Security Tips for Banks
 While a session security approach is key to securing the digital banking connection, here are a few other tips that are helpful for enhancing network security.
Most importantly, it is critical that banks keep all their software up-to-date. "All of your software should be checked and updated as generally recommended by the manufacturer or when flaws are found. A vulnerability in one piece of software, no matter how insignificant it may seem, can be exploited by a hacker and used as a pathway into your whole computer," explained Kathryn Weatherby, a fraud examination specialist for the FDIC.
Additionally, as digital banking moves toward mobile devices, banks must prepare their network to be able to handle hundreds of devices. After all, more users mean multiple entry points for hackers.
As digitalization continues to impact the banking industry, taking the appropriate steps to ensure that private and sensitive consumer data is secure in digital banking applications becomes more critical each day.
Read More: Digitalizing Employee and Customer Experiences in Banking →
Subscribe for updates
Contact Sales