Quickly connect internal teams to securely collaborate via chat, voice, video, and screen share, all without a desk phone
Address pressing customer needs in the contact center and communicate proactively via phone and SMS
Leverage modern communications to securely connect licensed professionals with clients
Securely connect internal teams and empower your contact center to deliver secure and reliable support.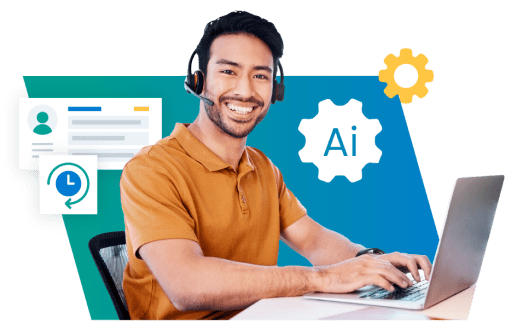 Intelligent Automatic Responses and Support
Our AI services are designed with our high-security standards and HITRUST certification, whether we're deploying our own organic AI solutions or integrating with innovative AI partners. Through the use of ML, LLMs, NLP, STT, TTS, and other AI techniques, we enable businesses and utilities to streamline processes, reduce costs, and enhance both EX and CX.
Conversational AI: Deploy a library of chatbots and virtual assistants to handle routine inquiries and offer self service options.
Agent Assist AI: Advanced models can streamline agent experience and outcomes, by providing appropriate, personalized responses.
Drive better Outcomes: Streamline operations with AI-powered analytics that provide insights to make data-driven decisions.
Utilize intelligent solutions for reporting and to support your most important resource: your staff.
Optimize Workforce Efficiency
Give supervisors and agents the tools they need. Boost efficiency through accurate forecasting, scheduling, adherence monitoring, skill-based routing, agent schedule self-service options, automation, and performance tracking.
Understand what's working (and what isn't), and act accordingly. Access real-time metrics, performance tracking, trend analysis, forecasts, and customer insights. Generate customizable reports for data-driven decision making.
Support Valuable Staff
Efficiently manage customer interactions with streamlined sessions, integrating conversation history and data from various sources such as a CRM or knowledge base. With less friction, agents can quickly access customer information, gain context and deliver personalized, informed responses, improving customer satisfaction, and meeting SLA targets.
Proactively Communicate
Maximize outbound campaign success with TCPA compliant campaign management for appointment reminders, outages, delays, payment reminders, and more. Efficiently manage campaigns, automate dialing, intelligently route calls, monitor in real-time, and track performance for optimal results. All this with multiple types of campaign modes and the configuration required to communicate proactively, drive agent efficiency, and customer experience.
Join these companies and put your trust in our secure, complete CCaaS platform.
How Fairview Health Services Lowered Call Abandonment Rates to Under 1%
Fairview saw how dynamic huddle technology could expedite real-time conferencing with no limit to the number of participants. LinkLive's drag-and-drop functionality enables transfer agents to seamlessly pull available resources into a conversation in real time.
learn more