Offer modern communication
channels your citizens need,
with FedRAMP security.
Route inbound conversations
to the right department every
time while reducing staff effort.
Engage your community
with streamlined, pre-built
communication workflows.
Features driving the right outcomes to best serve your communities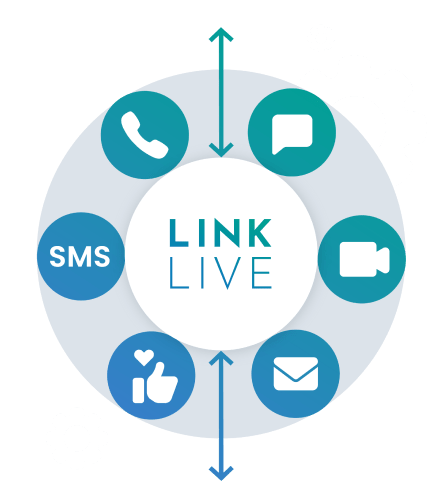 Every Messaging Channel Covered
Revolutionize how your department contact center teams manage multiple communication channels to get your community the answers they need.
Single pane of glass: One interface for chat, SMS, secure mail, inbound and outbound voice with full multimedia, managed from a single, secure and elegant app.
Improved efficiency: Streamline communication management across the board, with Agent Assist AI to give your team a boost.
Accelerated problem resolution: Give every citizen what they want, their problem solved, asap. Make it happen with self-service and streamlined hand off when they request a human.
Intelligent Inbound Conversation Routing
Ensure that chats, calls, and emails are directed to the most appropriate agent or team based on their department, skills, experience, and availability. Trust that citizens are connected to agents who are best equipped to provide answers based on the relevant department and topic, leading to faster and more accurate resolutions.
Save budget and resources
Deflect routine questions with our secure, ntelligent AI, allowing staff to focus on answering complicated inquiries and improving the productivity of your staff.
Intelligent and automatic responses are provided through our HITRUST r2 interface, and built from a relevant knowledge base. This solution is designed to securely and automatically respond to routine inquiries, and making your staff more productive.
Citizens need to be heard. LinkLive gives public sector teams the tools they need to serve their communities.
Optimize your Staff
Give contact center supervisors and agents the tools they need. Boost efficiency through accurate forecasting, scheduling, adherence monitoring, skill-based routing, agent schedule self-service options, automation, and performance tracking.
Go beyond and understand what's working (and what isn't), and act accordingly. Access real-time metrics, performance tracking, trend analysis, forecasts, and customer insights. Generate customizable reports for data-driven decision-making.
Join these companies and put your trust in our secure, complete CCaaS platform.
How Fairview Health Services Lowered Call Abandonment Rates to Under 1%
Fairview saw how dynamic huddle technology could expedite real-time conferencing with no limit to the number of participants. LinkLive's drag-and-drop functionality enables transfer agents to seamlessly pull available resources into a conversation in real time.
learn more