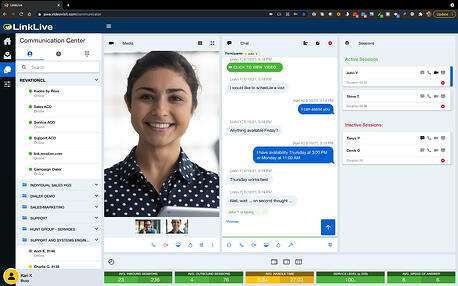 Revation started in 2003, born out of a vision to change industries with the power of communication.
As our customers leverage the LinkLive platform to do exactly that, we recognize there may be certain aspects of the tool – and what it makes possible – that are not as obvious as others. So, we wanted to take some time and highlight (or clarify) some of the ways Revation's technology stands apart from the unified communications crowd and what that means for your organization.
In case you're unfamiliar with Revation: welcome!
For background, LinkLive uses a single pane of glass approach to provide an omnichannel contact center customer experience, designed specifically for the most regulated industries such as banking and healthcare.
The cloud-based software enables our Contact Center as a Service (CCaaS) model, which works to create a balance of fostering human connection with AI-driven chatbot capabilities and automation features. Through LinkLive, Revation has driven innovative communication that has reinvented customer engagement. In addition to application security, Revation's processes are vetted via the HITRUST CSF audit process, and the company is actively investing in FedRAMP certification.
Now that we've provided a brief background, here are some examples of what all those features enable:
A Security-First Mindset
A quality contact center customer experience starts with proper security. Customers need to trust that their information is safe, especially in healthcare and banking when information is extra sensitive. They can feel confident knowing LinkLive is PCI, HITRUST, HIPAA/HITECH and SOC2 certified. Revation's servers are owned and operated in the United States, and its infrastructure runs media agnostic security and proprietary testing across all models. Among other measures, there are several steps built in before customers can access any form of personal data.
Cultivating Meaningful Connections to Improve Patient Engagement
The pandemic connected an increased number of patients to telehealth services all around the world. Mirroring in-person care between patient and provider in a digitized environment can be difficult. However, LinkLive grants telehealth platforms access to advanced communication methods such as HIPPA-compliant text messaging, voice and video conferencing.
As the CCaaS industry continues to grow, LinkLive aids healthcare organizations by reducing patient leakage, redefining revenue, assisting with appointment optimization and increasing overall customer satisfaction. Thanks to LinkLive's SaaS-based model, healthcare organizations can count on increased productivity and decreased costs.
Read more on specific ways to Improving Customer Engagement here.
Simplifying the Customer Journey in Banking
Similarly, the banking industry is well underway in its digital-first revolution, and financial institutions are faced with a challenge: integrating unified communication software to maintain customer relationships, while digital transactions continue to rise, and rapport-building moments become more isolated.
LinkLive addresses this by encouraging consumers to utilize self-service features for simple inquiries, providing an AI-enabled chatbot for quick questions and creating a path to speaking with a human representative that is seamless – and provides the full context on the question so customers don't have to repeat themselves. Not only that, but its easy-to-use dashboard and modernized features drastically speed up the training for contact center agents alike.
LinkLive is a solution to the growing demand in banking for reliable, quick, and efficient communication through mobile devices as well. To see more on Mobile Banking Trends.
Secure Workflows: Why We are different
LinkLive's cloud-based contact center is a one-stop shop, enabling its users to get the job done.
Differentiating itself from other CCaaS platforms, it offers a centralized location for all digital and physical channels of communication to call home – including industry standard CCaaS tools such as chat, secure mail, skills-based routing, session recording and agent scheduling. A true omnichannel experience.
Revation System's technology embraces empathy by genuinely understanding the data driving the experience for its users and their key audiences – a critical factor in improving customer engagement and facilitating a better experience for patients, bankers and more. LinkLive's use of AI also speeds up resolution for routine inquiries and gives consumers more self-service options with its chatbot. Not to mention, AI is useful in predicting operational threats and opens the door to unlimited possibilities for the future of contact centers.
All of these features combined help call center agents spend more time prioritizing complex issues facing their customers, and speed up the responsiveness around simple tasks.
Subscribe for updates
Contact Sales